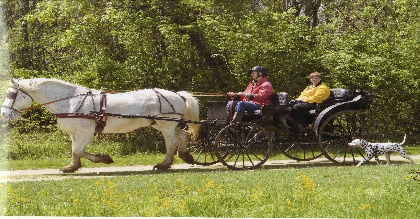 Copyright 2011-2018 Koira Dalmatians| All Rights Reserved.

Welcome to the Koira Dalmatians web site.

Koira Dalmatians begain in 1991 with the purchase of a liver bitch intended mainly for obedience. Her breeder Janet Thomson of Clearcreek Dalmatians, encouraged me to show her in conformation also. Although she never finished, I was hooked. This is U_CD Clearcreek Kaunista Koira Am/Can CD NA OAJ CGC (Koi).

The next addition to the Koira Dalmatian family was my foundation bitch from the Limestone and MiTime Kennels of Cindy Ingalls and Anna Jean Gretzinger. CH MT 'N' Limestone Anything Goes CD CGC (Paige). Paige was bred to a nice young dog, Sunrise Gabriel (Happy) owned by Janet and Lloyd Seltzer of Sunrise Dalmatians in 1997.

Am/Can CH Redrock's Harmony Con Brio CD RA (Brio) came to live in Ohio in November, 1998 from the Redrock Dalmatians of Peggy Ann Strupp. . Brio was the number 7 dalmatian in the country in 2001 and was in the top 20 dalmatians in 2002. Brio was proud to participate in the 2002 and 2003 Top Twenty event at the Dalmatian National Specialty and qualified for the first and second Eukanuba Cup National Championship.

All of the current Koira dalmatian family are related to Paige and to Brio.


Koira Dalmatians

Koira Border Terrier

Koira Dalmatians


Past Koira Dalmatians